The Benefits of Agency Caregivers
Caregiver in Beverly Hills CA
Finding someone to assist with the daily needs of an aging loved one can be a daunting task. Knowing how to navigate your options can help you make the best elder care decision for your family.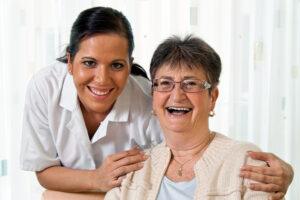 The Benefits of Agency Caregivers
At first glance, an agency hired in-home care provider may seem like the most expensive option available. What an agency provides balances out the additional hourly rate provided, however. Agencies will handle all the taxes and insurance required for care, including FICA, worker's liability insurance, and tax forms. Also, they often require on-going specialty training for their employees and are held to a high standard of expectations. You often have the ability to 'try out' different caregivers until you find the perfect match for your loved one. And if the caregiver has a sick day? The agency can send in a substitute to manage care in their absence.
Navigating the Hiring
Even with a home care agency, it's important to get to know your potential caregiver. You can often conduct an in-person or over-the-phone interview of potential applicants.
Things to Discuss:
Expected Job Duties (things like cooking, dietary restrictions, memory care, transport, feeding, etc.)
Relevant Experience
If they have discomfort completing any of expected duties
Strategies for handling challenging behaviors like fear, anger, and stubbornness.
Ask about previous in-home care experience.
Request personal and professional references.
You should have a clear idea of what level of care is required and the necessary duties. Know what skills you will require and what you are comfortable with caregivers training in over time. If possible, observe the interaction between the patient and caregiver either before, or very soon after, hiring.
Establishing Comfort
The senior care provider and your loved one may not immediately become fast friends, but the patient should be at least comfortable around and able to communicate with their caregiver. It helps if the patient and caregiver have shared interests to improve the personal connection between them. Remember that the transition can sometimes be awkward – a relative stranger is being asked to perform often very intimate tasks. For the patient, this new relationship can be highly stressful. The more comfortable they feel with the caretaker, the easier the transition will be.
Keeping Communication Open
Schedule regular times to meet with the home care worker to discuss any changes, concerns, or issues that may crop up through the course of care. If the patient in home care has a new medical diagnosis, a change in medication, new dietary requirements, or any related changes, discuss it immediately with they provide. Don't forget the power of praise – critique is important but so is recognition. It can help your family's care provider feel more comfortable with you and encourage them to open up about any issues they may see.
If you or an aging loved one needs caregiver services in Beverly Hills, CA, call Livewell Private Care at (310) 325-1077.  Servicing Los Angeles, CA and the surrounding areas.
Nicole is a Registered Nurse with a varied background in marketing and sales. She has been married for 27 years and resides in Southern California. She and her husband in 1995 went on to develop an international marketing team in the telecommunications industry, which now spans 24 countries. In October 2005 they joined a team that went on to create the 318th fastest growing privately held company and grew at a 758% growth rate in its first five years. Nicole joined the Livewell Care, Inc. team full time in 2014 as President.The company has doubled in the last year under her leadership. She attributes all success in business to customer service and truly caring about the outcome for all involved.Her motto is "We are always taking stock of where we are and bridging to the ideal because finished never is…"
Latest posts by Nicole McClure, BSN, RN, Client Services Manager (see all)